Every 6 weeks or so Centonove opens its doors on a Sunday to host one of our Regional Italian Long Lunches. Our most recent lunch held on Sunday 19th October took guests of Centonove through the wines and cuisine of the Alto Adige. For those that aren't familiar with this part of Italy it is located high in the North against the Austrian border. The region is home to aromatic pine forests, crystal clear alpine lakes and gently rolling, vine-covered hills that lead down to the Veneto plains.
If you haven't been invited along to one of these lunches don't be upset. Simply join Centove's mailing list on our website to recieve updates on each lunch as they are announced. The idea spawned from one of my regular trips to Italy with our chef Patrick Fletcher. This particular trip we had visited 5 different regions in 3 weeks and thought what a great idea it would be open a few Sunday's a year and re-create some of the experiences we had on these holidays. Sunday lunch works perfectly for the format, customers can sit and relax, enjoy 5 courses of traditional food matched with the wines from the region.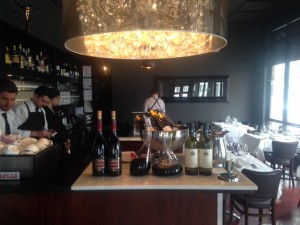 The most recent lunch saw us preparing a menu with almost a Bavarian feel. In a part of Italy where most locals speak and read German and Italian it's not suprsing that the food shares the same leaning. There is also a reliance on food preservation, which was a necessity during the long winters. Throughout the region, you can find special, long-lasting breads, smoked sausages, cheeses and fermented vegetables.
The vineyards of Alto Adige also lay claim to some of the best Pinot Grigio vineyards in the world. The white wines grown here are as diverse as they are breathtaking from Pinot Grigio, Pinot Bianco, Chardonnay, Gewurtztraminer, Sauvignon Blanc, Riesling & localised varieties like Muller Thurgau, Veltliner and Kerner. The cool climate with in the valley's produces leaner white wines with lovely fresh acidity and persisitence. Red grapes like Pinot Nero, Lagrien and Cabernet Franc also grow very well.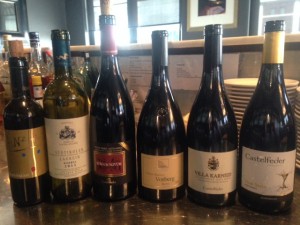 Below is the menu guests enjoyed through out the afternoon.
2013 Castelfeder "Vom Stein" Pinot Bianco
Artisan smoked speck, copocollo and sopressa
2012 Castelfeder "Villa Kanreid" Chardonnay
Poached rainbow trout with horse radish butter
As surprise glass of 2011 Cantine Terlan "Vorberg" Pinot Bianco
2011 Castelfeder "Burgum Novum" Pinot Nero
Sautéed Chestnut mushrooms with polenta and mountain cheese
2011 Erbhof Unterganzener Lagrein Riserva
Suckling Pig and pork sausage with crauti and mustard fruits
2010 Franz Haas Moscato Rosa
Strudel of apple, golden raisins and cinnamon